So at this point you know that SEO stands for Search Engine Optimization. SEO represents the tactics you can apply to your website to make it rank higher on search engines like Google, Yahoo, & Bing. There are many factors that come into play for SEO:
Having website pages with content that is written with your keywords in mind
How long a visitor spends on your website
How many pages a visitor looks at while on your site
Whether or not your website is optimized for mobile
And many, many more factors
That said, one of the newest ranking features for your website/business to come into play is local SEO. Local SEO helps businesses promote their products and services to local customers at the exact time they're looking for them. Sounds a little abstract, huh? Let's put it into layman's terms.
You are sitting on your laptop or smartphone and decide you want to meet your friend for coffee but you're not sure where you want to go. You type into a search engine "coffee shop near me" or "best coffee near me." Here's our result:
Wawa is a kind of grab and go for coffee and you and your friend always go to Starbucks, so you decide to go to Manhattan Bagel. Sounds great!
So how did these listings appear in our search results? First, you have to have location services enabled. Secondly, these businesses have claimed their profile on websites like Google My Business, Yelp, and Facebook. Just claiming your local profiles isn't enough, however; you want to make sure that you include photos, videos, a full description, etc. Think about each of these local profiles acting like a mini-website for you. Otherwise, it's like buying a house, but not putting any furniture in it!
Think about how powerful this is for your mobile users who are making their decisions on the fly. If you don't have a presence on these sites, your visitors can't find you! You have to hope that they stumble onto your website, which is great if you already have SEO prowess, but not so great if you're in a crowded industry.
Another point to keep in mind when it comes to local SEO is how voice search like Siri & Alexa are affecting your search results. For instance, we asked Siri, "Where can I get a cup of coffee near me?"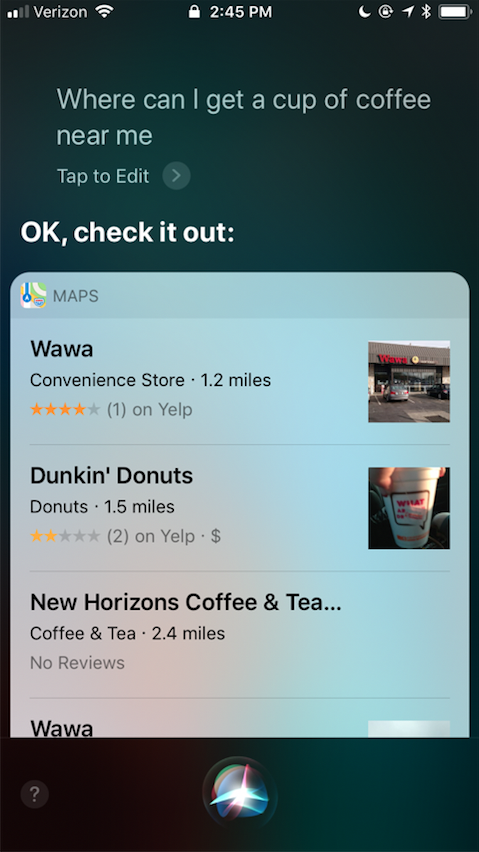 Wawa came up first again, but this time Starbucks and Manhattan Bagel had been replaced by Dunkin' Donuts and New Horizons Coffee and Tea. So, what gives? Granted we changed the search query slightly from "best coffee near me" to "where can I get a cup of coffee near me?" but these businesses are ranking for these down-to-the-second local searches. It's powerful marketing!
To recap: make sure you've claimed and optimized your business listing on local search sites like Google My Business, Yelp, and Facebook. Have your content be voice search friendly with the ability to answer full sentences. Your customers are waiting to find you on local, what are you waiting for?