Annual Credit Union Marketing Plan By Month
It is important to create a marketing plan that supports your Credit Union's overall strategic goals. You might be focusing more on gaining new memberships rather than on new loans. Or you might find you need to take an agile approach to your planning. The key is to have a plan that fits within your credit union marketing budget so you know how you are going to achieve your goals with actionable items.
January and February
Mortgages. People start researching home financing well before they purchase. Begin your mortgage campaign in January and continue throughout the home buying decision process.
Checking and Savings. Money goals are often found in the list of popular New Year's resolutions, typically some form of spending less or saving more. Position your checking and savings account products to reach the consumer while they are looking to increase their savings or searching for that perfect low-fee checking account. General membership promotions for those looking to switch financial institutions might be beneficial during this time too.
March and April
Vacation/Personal Loan or Credit Cards. Spring is when the weather starts to warm up and when most consumers start planning their summer and fall vacations. This is a great time to offer vacation loans (personal or credit cards) that will help your members pay for their dream vacation, a trip to Disney, or more. March and April are very popular wedding months, a loan or credit card could help pay for a honeymoon.
IRAs. March and April are also tax season. Promoting your IRA products, their benefits, and their tax-deductible contributions will help you generate more accounts or deposits during the busy tax season.
May and June
Auto Loans. Ahhh summer, May and June mark the end of the school and the beginning of long days and warm nights.  Cruising to the beach or your favorite summer spot in a new car is a welcomed thought. Begin your auto loan campaign in the summer to capitalize on increased auto sales. Boat and RV Loans are also popular during this time, tying in these will allow you to reach a diverse audience.
Credit Cards. There is more travel being done in the summer months, having a credit card to travel with is nice to have for transactions, emergencies, rewards, and more. Promoting your credit cards, especially if you offer one with rewards or travel perks will be beneficial. Let us help you gain more credit card users. Ask us about creating a credit card campaign that will generate the best results.
July and August
Student Banking. July and August are when the focus turns to prep for the new school year, parents and students alike. Whether your financial institutions have your own student loan product or have a partnership with a major student loan partner this is the best time to begin market this type of product. Also, encouraging the use of other products such as a HELOC (home equity line of credit) or personal loan for school expenses will prove to be beneficial this time of year as well.
Don't just concentrate on loan products, deposit products tailored for students are also good products to include in your marketing messaging. Getting more members to sign up for student checking before they head off to college will help engage younger demographics and position them to engage with you for years to come.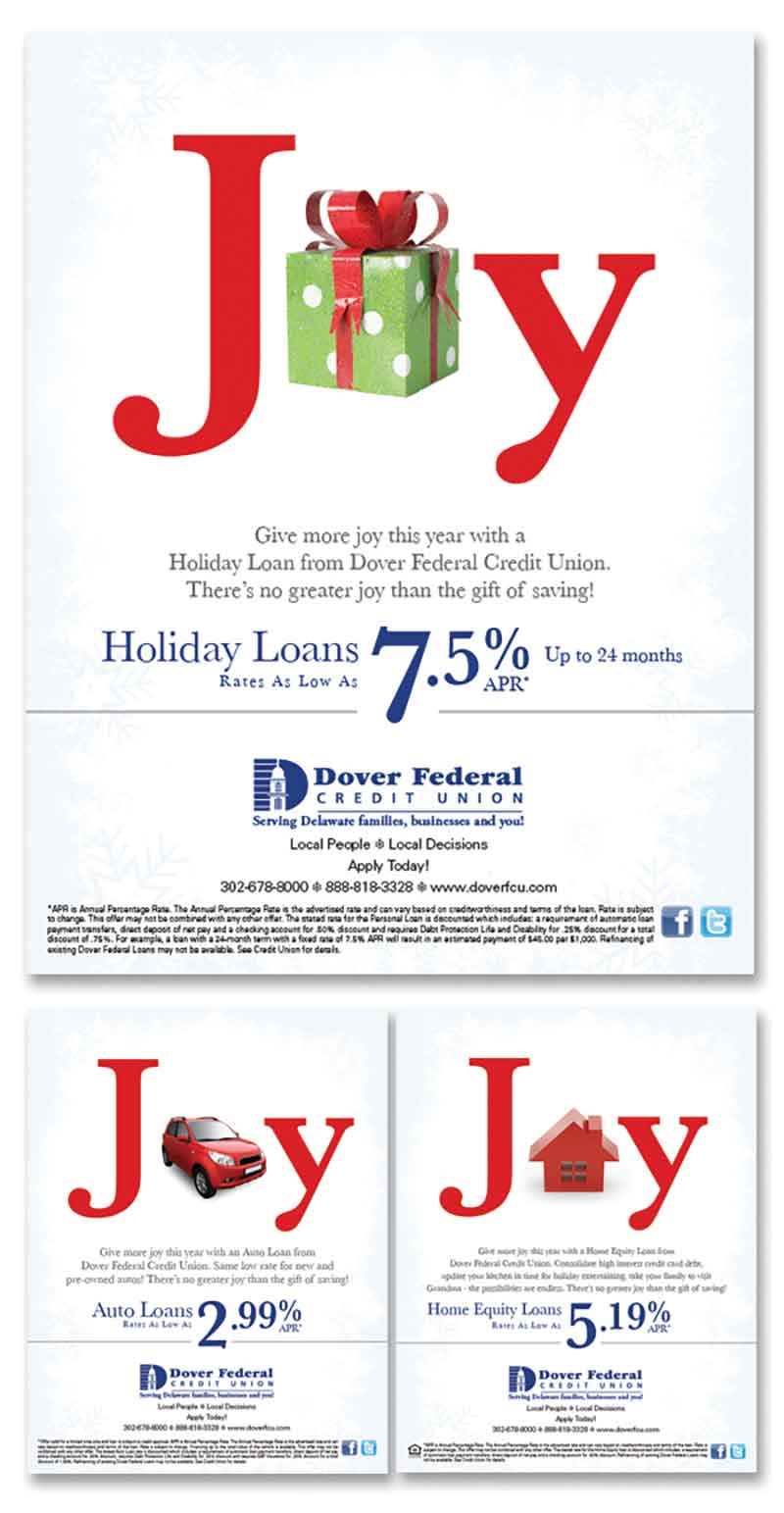 September and October
Holiday Loans. So much of fall is focused on the holiday season, use this to your benefit and align your messaging. Holiday decorating and advertising seems to happen earlier and earlier each year. Marketing holiday specific loans or personal loans to help your members pay for the holidays or a holiday vacation might prove to provide a good return on investment.
Auto Loans. Auto sales tend to see a small spike during the months of September and October. Typically, during this time, dealers and manufacturers are looking to move the previous year's models to make way for the new year models. When your members are purchasing during this time, make sure they are financing with you. Need help creating an auto loan campaign that gets real results? Let us know, we'd be happy to help.
November and December
Credit Cards. Holiday shopping is in full swing during the months of November and December. Give shoppers the perfect credit card to buy all their presents. Cashback, rewards, or even low rate or 0% offers will be beneficial in gaining new credit card users.  Don't forget to encourage usage among your current credit card holders.
Heaters, furnaces, and other home appliances tend to have a way of breaking down at the most inopportune times, like just before all your relatives are due to be in for the holidays. A HELOC might just be just the thing that saves the day and provides the funds needed to make the repairs and replacements.
Whether you want a consultation about an upcoming campaign, need a credit union marketing plan developed, or a great campaign we have a solution for you. Contact us today at connect@epicmc2.com.