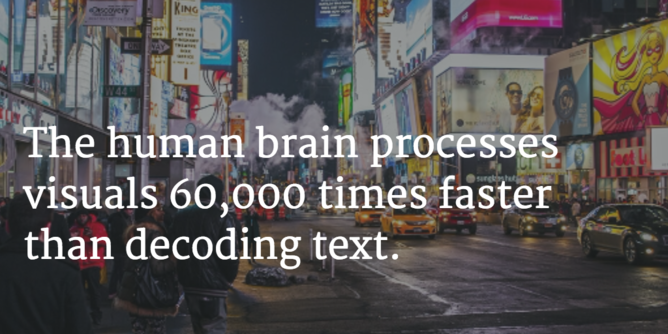 "This year, companies were scrambling from session to session to figure out what content people actually want, rising social media trends, and how to pack in 21 different social platforms, listening tools and rise to the top of the trends report."
Source: www.business.com
The state of social media marketing in 2015 is complex and #smmw15 may have seemed overwhelming for some attendees, but many overarching takeaways can be gleaned.
From the list of 30 stats from Social Media Marketing World #smmw15, we've compiled five of the most important trends with one-sentence summaries.
1. The reason why visual content is becoming increasingly important across the web and social web: The human brain processes visuals 60,000 times faster than decoding text. – Pam Moore

2. Why your brand needs to be monitoring social networks for customer feedback: 42% of people that complain about your company online expect a response. – Jay Baer
3. The importance of responding to online complaints: Responding to a complaint increases advocacy by 20%, and not responding drops advocacy 43%. – Jay Baer
4. Why your brand needs to consider paid advertising for its Facebook page: You will only get a 1-6% organic reach on your posts in Facebook.
5. How social recommendations truly influence purchasing decisions: People are 70% more likely to make a purchase based on a friend's social media updates. – Mark Schaefer