Create a Crisis Communication Plan
As much as we'd like to avoid them, sometimes mother nature and circumstances have different plans when it comes to an emergency, crisis, or natural disaster. As we are prepping and watching many others prep for a potential hurricane impact, we can't help but think about the preparation, marketing, and communication for this and other types of emergencies. Does your business or credit union have a crisis communications plan? Do you know how to communicate with your members or customers, as well as your staff in the event of a natural disaster or another type of crisis?
Unfortunately, we've dealt with many natural disasters and emergencies over the years, both internally for our company, Epic Marketing, and as the marketing firm for many organizations and credit unions. In our experience, we cannot stress enough the importance of being responsive and communicative during a crisis situation. How a company responds and reacts to a situation can be more important than the crisis itself.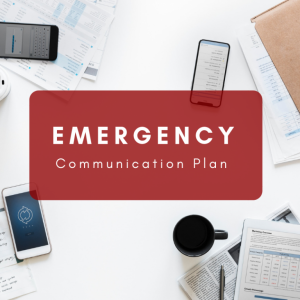 During any crisis situation, communication is key – every stakeholder needs (and wants) to be in-the-know. This means your marketing and communications team needs to be prepared to handle any situation that could arise. Communicate before (if you have the option), during, and after any situation. Create a crisis communications plan for what you are doing to prepare for a natural disaster, how you are going to take care of your employees, how you will be able to still serve your members or customers. If it is a different type of crisis such as a public relations crisis, communicate how you are working to resolve the situation. The key is to be as open as you can be and to provide your stakeholders with as much information as possible.
Be sure to have a plan and know what to do when disaster hits.
After you create the plan, test it – things can change and testing could show gaps in the plan. Do you have backup communication if cell towers are unavailable such as social media, email, or other types of message applications? Be prepared and know what your team and your business need in order to stay on top of any situation.
We've made sure we can be there to support our operations as well as be there to serve our clients. Whether it is updating websites, posting to social media, or any other type of communication, we have the capability to serve during emergency events. Our experience has allowed us to refine our process and change what's needed to always be available, even when city services aren't.
Marketers and communications specialists for credit unions and other organizations need to be fully prepared to protect their credit union, employee, and business interests in emergency situations. Create a plan that works for your business or credit union. Having a plan will help you respond to the unexpected better. If you have any questions or need help developing a plan give us a call or email us at connect@epicmc2.com, we'd be happy to help.