A quality microphone. Audio recording software. A web hosting service. While podcasting may be easier than you think, there are several steps to complete before launch.
What's the most important? Zeroing in on the right topic, of course.
Choosing the right topic for your podcast is the first step in any successful launch. Your long-term growth and progress are rooted not in how well you edit or interview, although they do matter! Instead, it's about hosting a program that offers listeners something unique. That's how you get people who will want to regularly listen and download.
Podcasting is an intriguing medium for businesses and marketers (and, well, anyone) in part because the barrier to entry is fairly low. It's possible to start a podcast for free, using existing technology on your personal computer or phone, or even with a small investment of under $100. There are podcasts about weird history, unsolved mysteries, favorite foods, and personal memories. There are podcasts about everything. It's difficult to nail down exactly how many podcasts are out there, but Podcast Insights estimates there could be more than 2,000,000 shows and 48 million episodes, as of April 2021.
What does this mean? Your podcast has to be good to stand out. And that's why it makes a difference if you are someone who says "Hey! I want to start a podcast" or "I want to start a podcast about this." One way to ensure your podcast is successful is to ensure it serves a niche. Instead of attempting to launch the best podcast, launch the best podcast on…whatever topic speaks deepest to you. Choosing the right podcast topic means choosing the topic that's closest to your heart or area of expertise.
If this advice sounds familiar, it should! More and more, marketing and social media success looks like building a brand with a dedicated audience. Think about microinfluencers. Would you rather have 5 million vaguely engaged fans? Or would you rather have 500 dedicated followers? Once again, it's about quality over quantity.
Where Did Podcasts Come From?
Podcasting is relatively new, right? Actually, the origins of podcasting are not unlike the origins of GIFs or emojis, in that they've all been around perhaps longer than expected. Once called "audioblogging," podcasting started in the 1980s. (And, naturally, podcasting also has roots in radio and oral storytelling.) But it wasn't until 2004 that we had the first known use of the word podcasting as a term in a news article.
Podcasts have since surged in popularity, with listeners and creators pushing podcasting to new heights and forging pop culture moments. In 2008, Edison Research stats showed that 18% of Americans reported ever having listened to or downloaded a podcast. Now, that number is more than 50%.
Looking to the future, keeping an eye on podcasting and marketing will be key. Ad dollars are flowing to this area, audio personalities are inking deals, and potential listeners have a natural understanding of the medium. Podcasting is a space for networking and audience growth. Having a podcast can help create connections (for you, your audience, and your business), generate leads, and drive brand loyalty. However, having a podcast does not guarantee you will have a successful podcast. That's why choosing the right topic for your podcast is so important.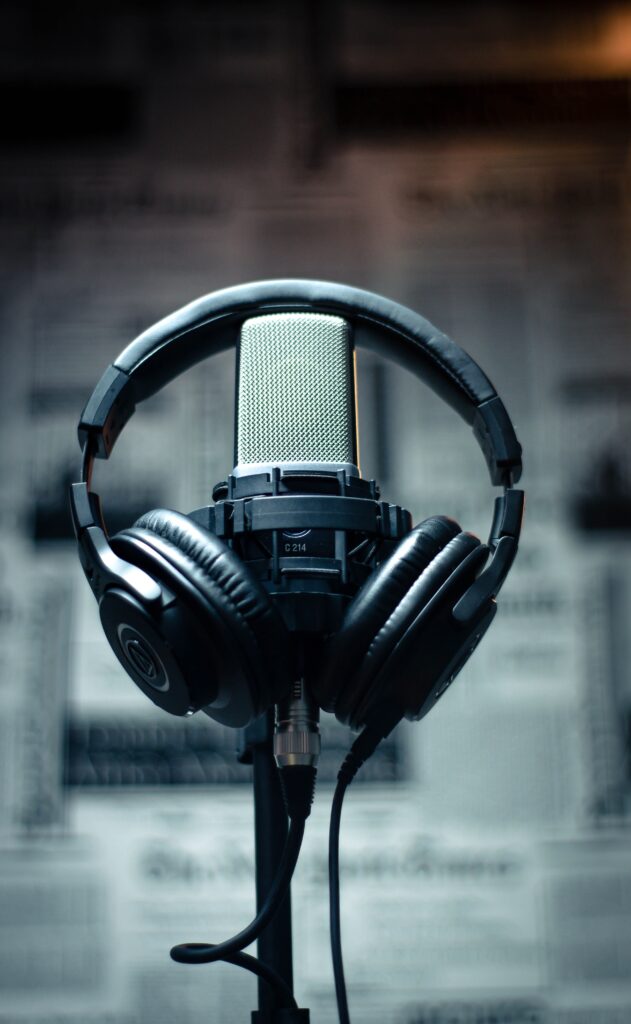 Ask Yourself These Two Questions to Launch
Launching and marketing your podcast takes more than simply recording yourself and uploading an audio file. In fact, before you begin, a bit of marketing and creativity is key.
These are the two most important questions to ask yourself before launching a podcast, and will help you choose the topic. If you don't have a clear answer to these questions, you will have trouble reaching your podcasting goals.
Why are you creating a podcast?
Who do you want listening to your podcast?
That's right – it comes down to why and to who. You need to understand what you have to say and the drive to say it. Empty goals will get you nowhere.
Although simple questions, the answers can be revealing. They will help discern if you are ready to commit to a podcast, understand your niche market, and if you are creating your audio content for the right reasons. Podcast is incredibly personal. After all, a host spends the time delivering content directly into a listener's earbuds. This can be great for brands, as people feel like they really know a personality and are part of a special relationship. But, with so many podcasts out there, the failure to make a connection will send a listener to another audience.
Your Niche Is Your Topic
Now, for a third question: What do you do better than anyone else? It's a question to come back to again and again in marketing and PR, because discovering your niche gives you a reason to stand out from the crowd. If you had trouble answering the questions above, perhaps you aren't focused enough on what drives you. Podcasting is full of passion. Choosing the right podcast topic means discovering what you are most excited to work on, and what you are most qualified to discuss. And you'll know when you've found it, because you will absolutely shine when talking about it.
Of course, podcasting is also fun and quirky. Your podcast topic might not be what's on your resume. It could be that you are most qualified to talk about a favorite TV show or your local community. It's been said that "you gotta get a gimmick if you want to get ahead." In a way, this is true with podcasting. While you should still be true to yourself, you do need to discover something that's wildly specific and unique to you.
Choosing the right podcast topic sets you up for the next steps: name, branding, marketing, launch, and continued success. If you have a solid idea, it will be easier for you to continue to create and roll out new episodes. What would happen if you pitched a podcast on a topic in which you had zero expertise or connections? Who would be a guest on your show? Who would listen to your show? When you have a topic that speaks to you (and to your listeners!) these questions will be easily answered.