Are your eyes deceiving you, or is that label advertising a brand that doesn't exist? For April Fools' Day, we take a look at real marketing for fake products.
It may seem silly, but even fake apps and brands need real marketing and communications expertise to work in fictional settings. At least, that's the idea behind successfully inserting faux products into our favorite books, movies, and television shows. So, how do fictional brands and apps come about? Whatever the format—and no matter if the story is taking place in Monstropolis, outer-space, or here on planet earth—creativity and branding are a must.
Fake brands are so commonplace in our fictional worlds, that we even expect to see them. In fact, it might even feel odd when we don't. (After all, how many times have you rolled your eyes when someone ordered just "a beer" in a movie bar scene?)
Independent Studio Services, or ISS, is one such prop supplier for television and film production studios that's in the business of fake product placement. From the chips your favorite sitcom characters eat to the equipment needed for EMTs to conduct dramatic prime-time rescues, a prop supplier fills the need. With exacting precision and a library of resources, ISS's attention to detail ensures viewers aren't disappointed. In fact, it's because the set is so well dressed, that we can all better focus on the storyline and entertainment. "We're trained to see brands, so when you don't it's almost jarring," Michael Bertolina, ISS's former vice president of Entertainment Marketing and Acquisitions, said in a 2021 interview with Fast Company.
Brands that look similar to, but aren't quite the same. Apps that have a cool concept, but aren't available to download. It all starts with a good idea. Marketing and branding make fake brands feel like a natural bridge between fiction and reality.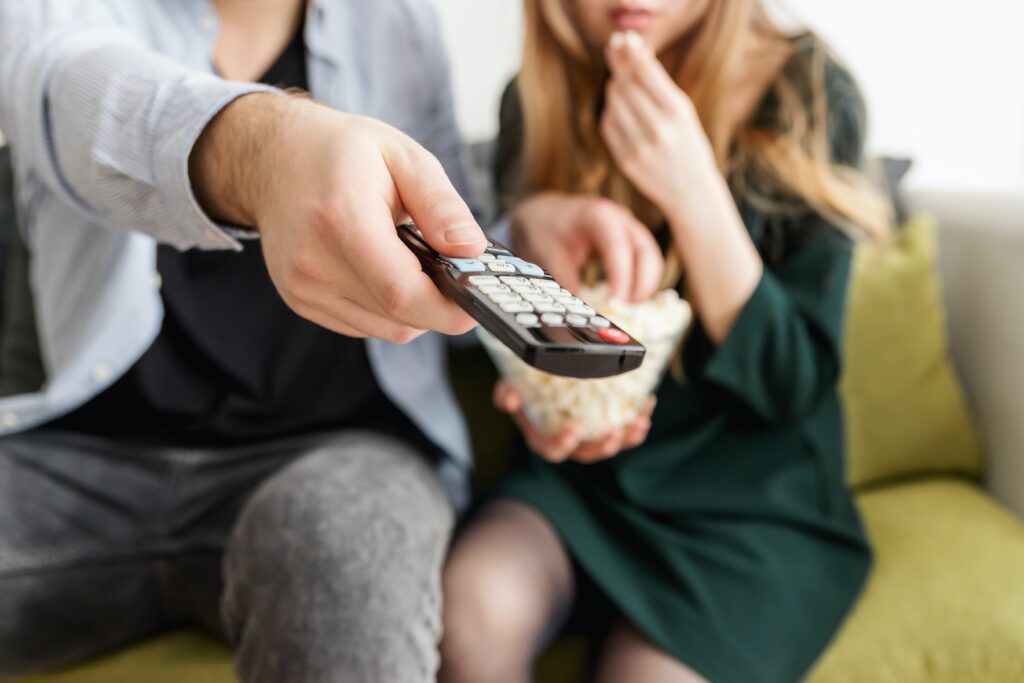 Why Create Fictional Brands
Fictional apps and brands are on our screens and the airwaves, but in this case we do not need to be alarmed. Instead, think of it as creativity at work. Have you ever watched a TV show or read a book and done a double take? You see something mentioned that seems real, from the placement of the product in the narrative to the colors on the logo. Marketing and branding has become part of our daily life, so to create an effective fictional world, fake brands make a natural entrance.
For a variety of reasons, it often makes sense to include fictional products in entertainment instead of going with the real deal. For one, it could be that a creative lead simply doesn't want to turn their art into a brand opportunity. Additionally, brands themselves might not want to be involved in certain storylines. Another reason might be that it doesn't mesh with the storyline—or that a unique company is needed and central to the storyline. Do you want characters interacting with reality and working in a well-known superstore or tech startup? Creating a fictional world that includes fictional companies and brands can give the creator or author more freedom with their story.
Real Meets Fiction
Here is a case where a fake brand meets a real one and marketing intersects. In the 2020 mystery book One By One by Ruth Ware employees at a fictional startup find themselves trapped in a ski chalet with a killer. Thankfully, the plot is devised from the author's imagination. And so, too, is the startup that provides background for the characters and storyline. For some readers, that the app is fictional could be regrettable. The fictitious Snoop app allows listeners to spy on the music playlists of their followers, who could be friends, celebrities, or strangers. Cool, right?
In an interview with Library Journal, the author Ware explained some of the backstory to creating Snoop:
I think any kind of social media is fascinating […] it tells you not just about who the person really is, but how they want to be perceived. I think that would be the attraction of Snoop – figuring out when a celebrity's carefully curated feed ends, and their real listening begins. One of my favourite quarantine moments was that film of Snoop Dogg sitting alone in his car, just blissfully listening to the Frozen soundtrack. It was not just touching and unexpected, but it also felt totally authentic. Maybe he would be my first snoop.
Notably, there is a real app called Snoop. Only, the concept has nothing to do with music. Instead, it's a financial app that brings your accounts together and focuses on money management and saving. So, perhaps in the world of fiction and in real life, good ideas and brand names will rise to the top!
Play In Your Own Fictional World
Whether a brand is fake or real, it's marketing expertise that helps make it feel authentic. Communicators and marketers have an awesome toolbox of skills. Designing a website, crafting a social media presence, and creating a suite of print pieces helps launch a brand. And, it's these pieces that encourage audiences and consumers to learn more. Our digital and physical marketing presence gives people something to interact and engage with, both online and offline. Marketing builds relationships and trust.
So, how does this relate to fictional storytelling? One of the reasons why fictional brands and apps are so compelling is because they work within our expectations. They may also pay homage to real-life mega companies. Even if there is a framework to play inside, there is still a lot of creativity and homework. Consider Monsters, Inc. Now, this is not a fake world that we could easily be drawn into. But it is powerful in part because of the level of detail. Like so many Pixar projects, it starts with a basic concept. You could even say it's a workplace buddy movie or about alternative energy resources. It becomes believable and engaging because of what viewers can hold onto, from the color palette to the logo. As a company, Monsters, Inc. has a clear brand identity. 
If you need to encourage your own creativity, let your imagination go wild. Ask yourself, What if this was real? How would it work? Spend a brainstorming session asking your team to come up with a fictional app, or redesign a favorite brand simply to practice creative skills. You may find that the opportunity to play in the fictional world improves your process for real world challenges and questions.